about us
Fashion, that reflects every women's mood in trendy way" this is what provides the base for functioning of Roop Vatika
Roop Vatika has been a long established name in the fashion industry. Founded in 1992, by Mr. Raj Arora which has now successfully & gloriously completed 30 years (since 1992). Uniquely catering to your every need. The journey has been long and it is still growing with each passing day.
Roop Vatika aims to become a global brand which will build strong foundations for us and people around us through strong business ethics and continuous efforts towards self-improvement and excellence.
WHY EMBARK ON THIS JOURNEY ONLY?
While conversing with one of his cousin's, he realized the rapid growing acceptance of the fashion market worldwide
and the thought of opening an emporium strike. He went on to survey about the market conditions. After analyzing
the whole market trends, he plunged into opening an emporium. Something that was started at
the small scalenow caters to every woman in every age group,
who every day chooses ROOP VATIKA.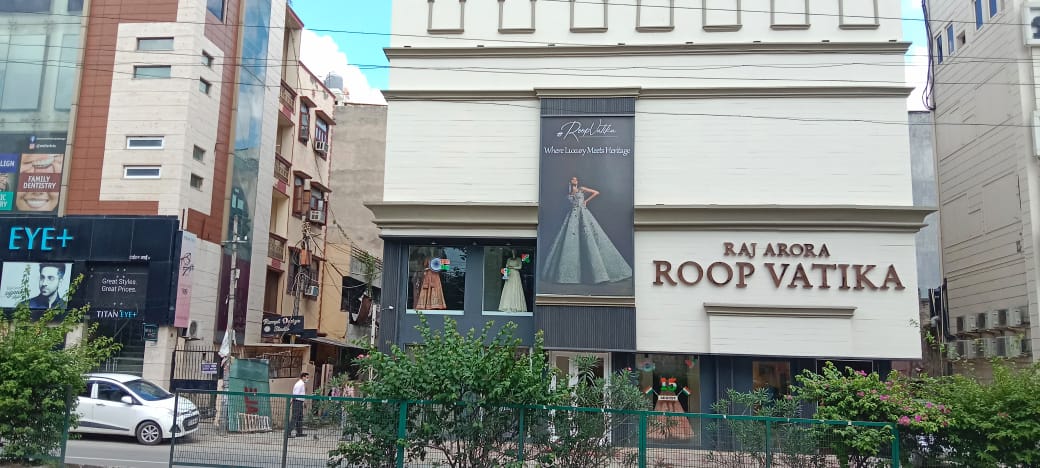 CULTURE OF ROOP VATIKA
Roop Vatika as the name suggests, Roop means beauty and Vatika means place. Roop Vatika is a place for enhancing the beauty of women through fashion. We aim at delivering exclusive products at best prices to make our customers be in a transport of delight. Our quality never goes out of style. We promise comfort.
To us, Customers are no less than family and we want them to be happy campers owing to which we have 98% satisfied customers. As a matter of fact, the working environment is so familiar that apart from monetary benefits the employees are provided with incentives and a family vibe. Our employees have a joy to behold, let alone the customers. Hence, The happiness spread by Roop Vatika is not just restricted to their clients
The first employee, Mr. Shiv Mohan Yadav, was employed in 1994 and by now, we have 150 contented employees.
Considering the growth by far, Rajender Nagar emporium was earlier spread across 100 sq. ft which has now turned out to a 3500 sq. ft area. The emporium highlights the virtue of "Luxury deemed with love".
The emporium in Rajouri Garden was started off in 2007 from an area of 300 sq. ft which is now expanded to 3000 sq. ft.
WE ARE THE FASHION CONNOISSEURS
Roop Vatika provides fashion as unique as you are. We match style and class with luxury and comfort. We believe in giving our
customers a whale of a time.
RoopVatika caters to the fashionable needs of women from all walks of life. With its presence in the industry from the past 30 years, it has gained clientele turned into family. With exclusive designs and trends coming out every few months,  the brand attracts brides, brides family, friends and bridesmaids to the stores. Mr. Raj Arora personally keeps involvement with each and every department, especially the designing department. Vivid colors, intricate designs with hand and machine embroidery give Roop Vatika a unique place in the ethnic wear world in the world of Indian traditional fashion. Raj Arora has a stunning sense of fashion, hence his involvement in sampling of khakhas, embroidery swatches and
final garments is seen thoroughly.
RoopVatika houses a team of designers which closely work on the development of designs which then are sold in all the stores. An array of productivity is generated when sampling masterji, tailors, kha - kha makers, hand embroiderers and karigars come together in curating outfits that bring smiles on our family like clients. The atmosphere of the stores and the warehouse is filled with positivity when Mr. Raj Arora is himself present in the designers units, which flourishes the minds of designers with creativity and inspirations to curate remarkable designs. Mr. Raj Arora is Consistently giving rise to growth and development.